Junk Removal Services in Visalia, CA
Junk hauling is difficult work, so why should you do it on your own? If you have junk on your Visalia property, but you don't have what it takes to remove it on your own, then never fear. The crew at Be Junk Free will serve you because you deserve the best service available!
Leave a Google Review for a  

$20 Discount!
JUNK REMOVAL SERVICES IN VISALIA
Visalia, CA, the "Gateway to the Sequoias", is located near three different national parks, and because of this, it's a fantastic place for tourists to visit. Additionally, Visalia natives also enjoy the area thanks to the many safe neighborhoods and all the fun businesses there are nearby. However, if your pile of junk is growing tall like a sequoia, then that means you've got a disaster distracting you from the beauty of this city. But don't worry, because the crew at Be Junk Free has the junk removal services in Visalia that you need!
Residents can't always rely on the city's trash pickup services because some junk items will be rejected. Businesses won't always have time to clean up their own messes because they have enough things on their to-do list. The truth is that nobody really likes hauling junk—at least, no one aside from Be Junk Free. That's why we're more than excited to be at your service!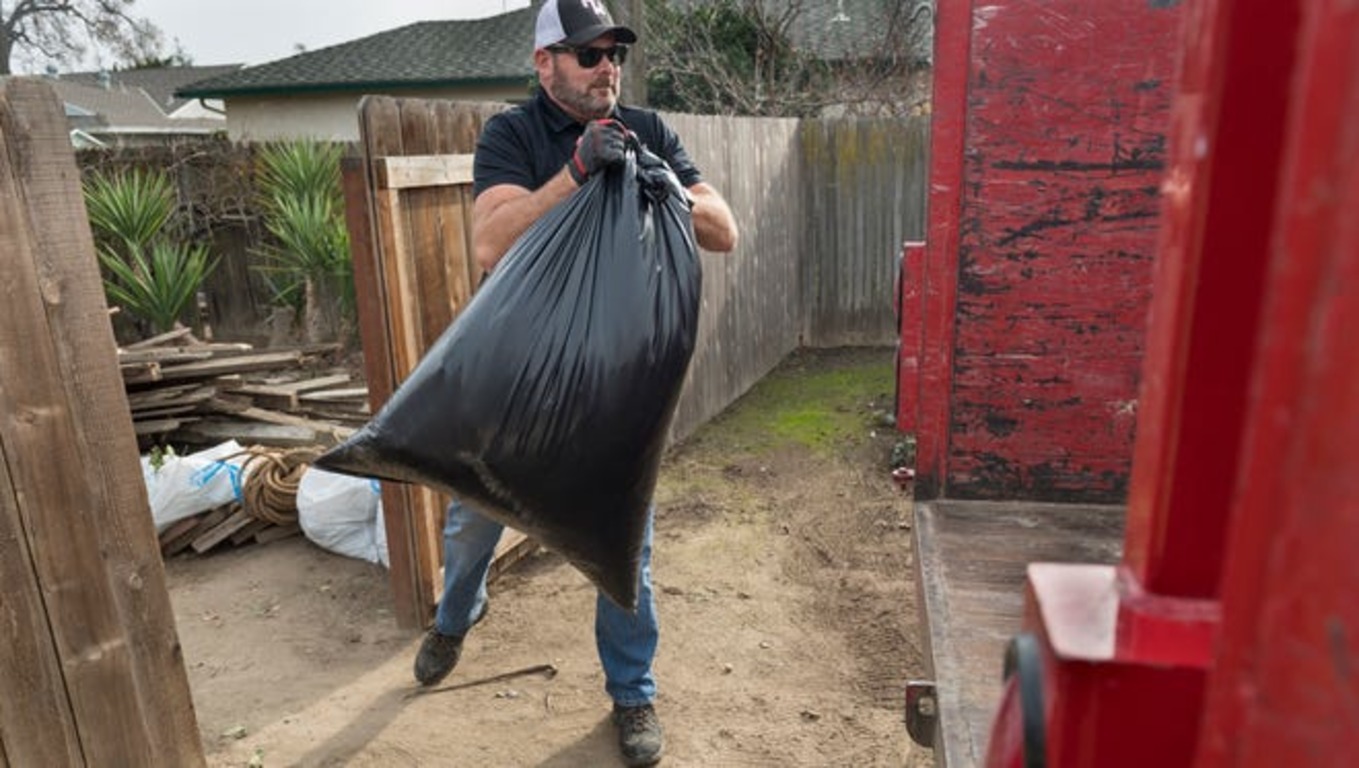 Why Our Hauling Services?
What makes Be Junk Free the #1 source of premium junk pick up services? For one, there are very few items that we'll turn down. Of course, we can remove small things such as clothes, toys, and old decorations, but furthermore, we can also remove heavy objects like appliances and furniture. We have more than enough truck space for your clutter, so when you've got something that has to go, it's almost certain that we can take it off your hands. So let us haul away junk for you—you'll be delighted about all the time we save you in the process!
While we're talking about saving time, we'd be mistaken to not talk about saving money as well. As it turns out, our prices for junk removal services in Visalia are better than the competition because we are locally owned and operated. "Wait, does that really make that much of a difference?" Yes, it does, since we don't have to pay pricey franchise fees. What this means is that we cost less to operate, and in turn, we cost less for you to employ!
Generally, our clients need to see us by the end of the week. In fact, some of our clients even need to see us by today or tomorrow, so we give them exactly what they want with our same-day and next-day availability. If you need lightning-fast service, don't hesitate to get in touch with us! Click Book Now, then fill out our online form to get started.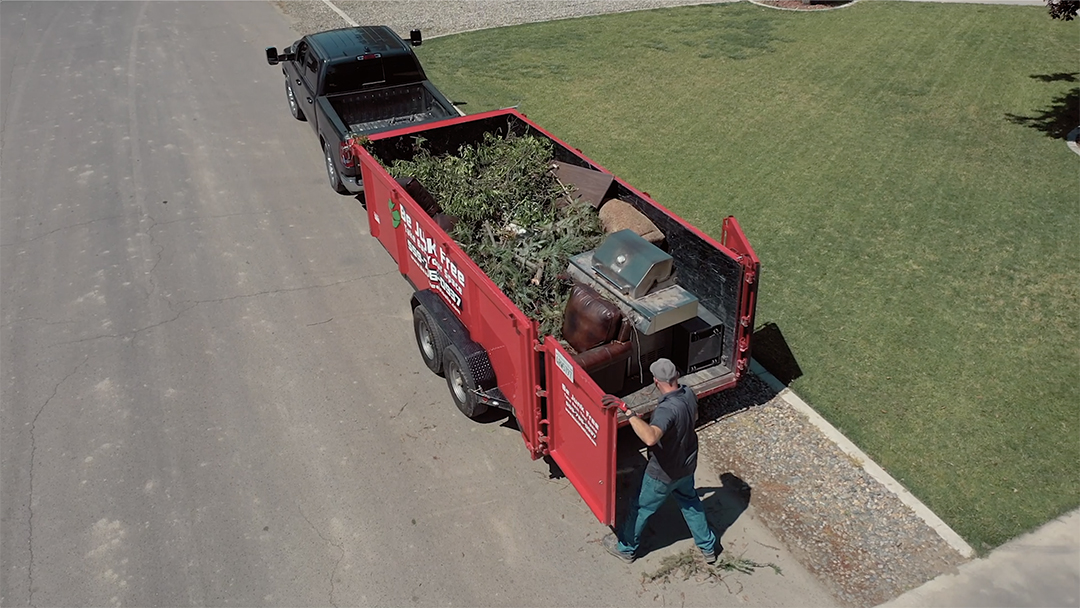 Our Visalia Junk Removal Process
We'll get started by showing up right on time for your appointment, then taking a close look at all the junk you have for us. While we do this, we'll estimate the volume of the junk.
We'll use our estimate to prepare a volume-based quote so you know what you'll owe us before we even start working. If you like our price, then we can start hauling.
Junk removal is what our team does best, so feel free to watch them haul your junk to our truck. However, you're just as welcome to relax on the sofa, too.
Eventually, we'll load the last of the junk onto our truck and ask for your final payment. We'll never add hidden fees to the price we quoted upfront because we don't like foul play!
Estate Clean Outs in Visalia, CA
While it's not always a comfortable truth, nothing lasts forever, and that's just as true in Visalia as is it everywhere else. People move out, get evicted, or even pass away, which then leaves someone with the responsibility of cleaning out their old house. Sometimes, it might even be you who has wound up with this task. So who do you contact when you need help with this responsibility? Well, at Be Junk Free, we provide full-service estate clean outs so that you don't have to conquer an entire household's worth of junk on your own.
Give us a quick tour of the estate so we can see everything that's inside it. Then, we'll take it all to our truck, from the kitchenware to the old decorations and even the clothes, toys, electronics, and exercise equipment. The long story short is that we'll remove any clutter you didn't want to keep, then dispose of it for you after your appointment. Additionally, we'll sweep up the estate so that you have one less chore to deal with.
About Us
Be Junk Free is proud to provide you with junk removal services in Visalia so that you never have to do it yourself. On top of this, we also serve many other locations because there are people who need to offload junk all around our community! Our team takes on every appointment with the same optimistic mindset and "go-get-'em" energy that we've had since Day One. What's more, our fantastic prices keep the customers smiling and coming back. Won't you join them?
What Our Customers Have to Say
Mike was awesome. I had a garage full old furniture and boxes of junk I wanted to get rid of. He came the same day and was in and out quickly. Great price and very friendly service. 10/10 recommend!

Mike has helped me on several occasions with junk removal and furniture removal. He has always done a great job for a very reasonable price. Today he cleaned out my gutters and power washed my driveway and sidewalks. I can't believe how much dirt was in those gutters! I highly recommend Mike Tyler! Give him a call!

This Company is beyond Amazing! I had a Cal King mattress removal done the 1st time. Arrived same day. Today I texted them and had a garage, backyard and huge freezer appliance removal done. So convenient and fast. I will call them for any removal I need in the future. I definitely recommend them. 5 Stars all the way!

The two men that came were professional, got the job done quickly. I thought they would have to make more than one trip, but the trailer held more than one would think. Awesome Job, very happy!

Mike was super friendly and did a great job at a very reasonable price…. will definitely use this company again! Thank you Be Junk Free!

The service was excellent. Mike was reliable and pleasant. He handled things quickly for us. The storage unit was a disorganized mess, but he made it all go away for a reasonable fee. We will call him again for our garage that has never seen a car.

Great help when my dad needed a ton of random junk removed. A real nice guy and fast worker, before we knew it the drive way of couch, table, chairs, etc. was gone! Great price too!

Everything gone within 20 minutes, very satisfied. Quick and awesome service. Called yesterday, everything removed today !!