Dumpster Overflow Services in Visalia, CA
Don't let an overflowing dumpster spill its contents all over your business's land. Instead, contact Be Junk Free, and we'll pick up all that overflowing trash for you.
Leave a Google Review for a  

$20 Discount!
DUMPSTER OVERFLOW SERVICES
While it's easy to forget about the dumpster hidden behind your business, it's a key part of managing the waste your day-to-day operations generate. In fact, when your waste management solution fails to empty your dumpster during a given week, the results can be disastrous. Is your dumpster overflowing with garbage? Can't wait for the next pickup date? It's time to consider dumpster overflow services from Be Junk Free!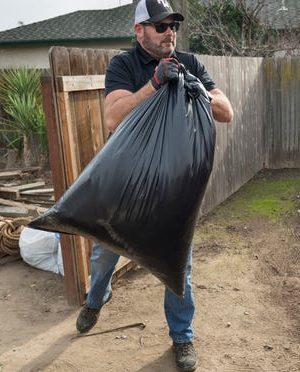 Why Our Dumpster Trash Pick Up?
Sometimes, dumpsters overflow. Whether it's because of a missed pickup or an abnormal amount of waste generated throughout the week, it's a problem that needs a fast solution. Fortunately, that solution isn't far from you! Be Junk Free is a junk removal business that is locally owned and operated in Visalia, CA. We get rid of all kinds of clutter for our clients, including trash that won't fit into your dumpster. We can be there as soon as today or tomorrow to tidy up the mess!
The cost to clean up a dumpster is very reasonable, too. We'll just estimate the amount of truck space it will take up, then prepare a volume-based price for your approval. You'll also appreciate the fact that we never charge our customers hidden fees. Instead, our quoted price is our final price. No tricks involved!
Nobody wants to be at the mercy of an overflowing dumpster for long, so don't wait to book an appointment. There are a few easy ways you can get in touch with us right away! Firstly, you can contact us online using our website's scheduling form. Or, you can call us at 559-786-0937. We will help you book an appointment fast either way you go about it!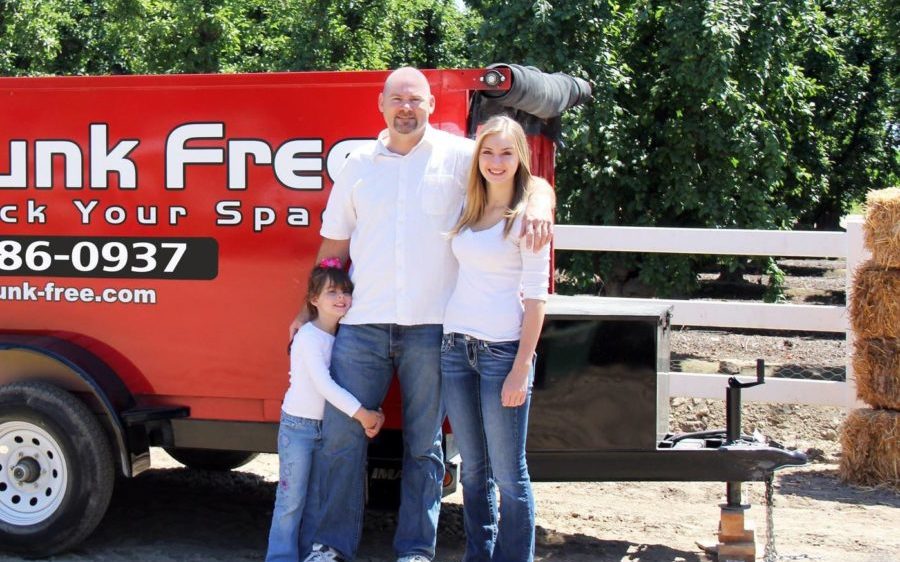 How It Works
We'll meet you at your business on the day of your appointment. Just keep an eye out for our courtesy call so you know when to head towards the dumpster.
Let us take a look at the dumpster waste and let us know if you just want us to take the excess of everything inside. We'll prepare a quote for your approval next.
After you have accepted our service quote, our team will clean up the overflowing garbage, leaving your dumpster in a much better state.
Finally, just to make sure that waste never poses a problem to you ever again, we'll head out and take it to a proper disposal site.
Removing Construction Debris from Dumpsters
When dealing with dumpster overflow, there is usually an underlying cause to the problem. A lot of the time, that cause is simply that some sort of recent development left you with more junk than normal. In many cases, this development is construction, renovations, or remodeling, leaving you with a dumpster overflowing with construction debris. Whether you've got a surplus of bricks, blocks, lumber, or drywall, we can scoop it out of the dumpster and make sure it overflows no longer. Remember that next time you have a lot of construction debris that we can pick it up for you and that you don't have to bother with the dumpster at all! We will make your life easier when you're dealing with junk!
About Us
People dealing with overflowing dumpsters in Kings and Tulare Counties don't have to put up with it for long thanks to Be Junk Free. In addition to cleaning up dumpster waste, we take on many other junk removal projects in our community. Why? Because we're invested in keeping our home clean. Our business was founded in this region for that very purpose. So choose us and receive the help you need from neighbors we care. You'll support a local business and your regional economy in the process.
What Our Customers Have to Say
Mike was awesome. I had a garage full old furniture and boxes of junk I wanted to get rid of. He came the same day and was in and out quickly. Great price and very friendly service. 10/10 recommend!

Mike has helped me on several occasions with junk removal and furniture removal. He has always done a great job for a very reasonable price. Today he cleaned out my gutters and power washed my driveway and sidewalks. I can't believe how much dirt was in those gutters! I highly recommend Mike Tyler! Give him a call!

This Company is beyond Amazing! I had a Cal King mattress removal done the 1st time. Arrived same day. Today I texted them and had a garage, backyard and huge freezer appliance removal done. So convenient and fast. I will call them for any removal I need in the future. I definitely recommend them. 5 Stars all the way!

The two men that came were professional, got the job done quickly. I thought they would have to make more than one trip, but the trailer held more than one would think. Awesome Job, very happy!

Mike was super friendly and did a great job at a very reasonable price…. will definitely use this company again! Thank you Be Junk Free!

The service was excellent. Mike was reliable and pleasant. He handled things quickly for us. The storage unit was a disorganized mess, but he made it all go away for a reasonable fee. We will call him again for our garage that has never seen a car.

Great help when my dad needed a ton of random junk removed. A real nice guy and fast worker, before we knew it the drive way of couch, table, chairs, etc. was gone! Great price too!

Everything gone within 20 minutes, very satisfied. Quick and awesome service. Called yesterday, everything removed today !!