Junk Removal Services in Hanford, CA
Why haul away junk on your own when there is a crew of experts that's prepared to serve you? At Be Junk Free, we're always excited to help out our clients, so if you've got junk in Hanford, CA, we'd love to hear from you. Book an appointment now, then watch as your junk disappears!
Leave a Google Review for a  

$20 Discount!
JUNK REMOVAL SERVICES IN HANFORD
Hanford, CA, the county seat of Kings County, is filled with so many different enriching things to do. You can catch a movie at the Hanford Fox Theatre, then browse the exhibits at Hanford Carnegie Museum. Whatever you do, though, don't force yourself into a do-it-yourself junk removal job. Since this work is so stressful, you'd probably rather have the pros do it for you. You'll find those pros at Be Junk Free, a local business that's better than the competition when it comes to junk removal services in Hanford.
We're ready to serve every corner of Hanford, from Hardwick and Guernsey to the heart of downtown on Main Stress. Whether you're running a business, keeping the peace at home, or even renting out properties, know that Be Junk Free is ready to serve you when you contact us!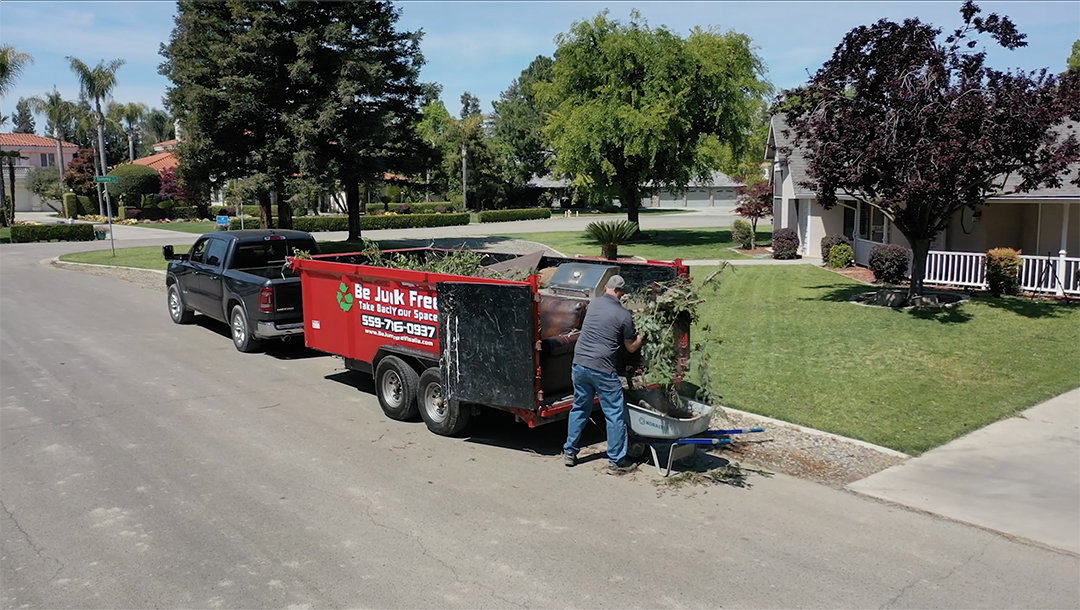 Why Our Hanford Junk Removal?
When you need a junk pick up, you'll want it to be done by the best professional junk haulers in your area. However, searching up "local junk removal companies" can throw a lot of results your way, so which one should you pick? If you need both fast junk removal and cheap junk removal without sacrificing quality, then Be Junk Free is the only real answer. Our team excels at working quickly without cutting corners. What's more, we provide fair prices too, ensuring that your appointment goes over smoothly.
Let's take a look at what an appointment with us generally looks like. Firstly, we'll arrive on time, take a look at the junk, then let you know what you'll owe us if we haul it away. Then, we'll carry it to our truck in a flash, but we'll also make sure we don't drop it or scrape it against your walls! The best part is, we never add hidden fees to your final bill during your appointment, ensuring the price you pay is well within your budget!
When you need junk removal services in Hanford sooner rather than later, what should you do? Well, reach out to us, because we've got same-day and next-day appointments available. But you've got to act fast. Otherwise, our other customers are going to snap them up! Click Book Now to access our scheduling form now, then fill out the blanks to send us a service inquiry. It's really that simple!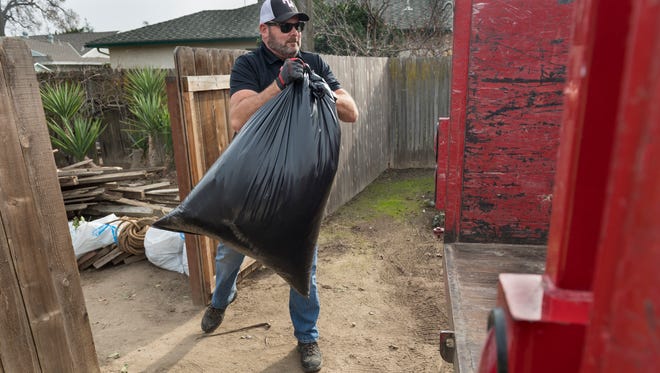 The Hanford Junk Removal Process
Obviously, no junk removal is going to happen until we arrive. This is why we'll prioritize showing up on time. Expect to see a crew that's ready to get to work!
After we have arrived, we'll check out all the junk you want us to remove, then provide you with an upfront service quote. Accept our quote, and we'll start hauling.
Junk removal is what we do best, so take a step back while we handle the hard work for you. We'll load up our truck so fast, you'll be left in shock and awe.
Finally, we will accept your payment and leave. After all, we've got to do something with your junk, such as recycling metal, plastic, paper, and cardboard.
Dumpster Overflow Services in Hanford, CA
There will be those times when your dumpster is skipped over, and when this happens, you can find yourself in dire circumstances. After all, there is only so much room in a dumpster. When it doesn't get emptied out every week, there's a very real chance your dumpster could overflow. So are you supposed to keep piling junk inside the dumpster, or are you forced to make room for it inside your business? At Be Junk Free, we've got a better solution: our dumpster overflow services. Give us a call, then make your distance as we remove the overflowing trash from the dumpster. So, do you need us to just remove the stuff at the top, or would you like us to empty out the entire dumpster? In either case, we're happy to help you. We'll be your lifeline as you hold out for your next trash collection day!
About Us
Be Junk Free is a family-owned and locally operated business, so when you need to get rid of junk, choose us to support your neighbors at the same time! Because we appreciate your patronage, we'll make sure we provide you with a truly exceptional customer experience. When you see our well-dressed team and their smiles, you'll know you made the right choice. That realization will only be confirmed further when you see our fast results and our affordable, volume-based prices. We've got the best junk removal services in Hanford and other service areas as well!
What Our Customers Have to Say
Mike was awesome. I had a garage full old furniture and boxes of junk I wanted to get rid of. He came the same day and was in and out quickly. Great price and very friendly service. 10/10 recommend!

Mike has helped me on several occasions with junk removal and furniture removal. He has always done a great job for a very reasonable price. Today he cleaned out my gutters and power washed my driveway and sidewalks. I can't believe how much dirt was in those gutters! I highly recommend Mike Tyler! Give him a call!

This Company is beyond Amazing! I had a Cal King mattress removal done the 1st time. Arrived same day. Today I texted them and had a garage, backyard and huge freezer appliance removal done. So convenient and fast. I will call them for any removal I need in the future. I definitely recommend them. 5 Stars all the way!

The two men that came were professional, got the job done quickly. I thought they would have to make more than one trip, but the trailer held more than one would think. Awesome Job, very happy!

Mike was super friendly and did a great job at a very reasonable price…. will definitely use this company again! Thank you Be Junk Free!

The service was excellent. Mike was reliable and pleasant. He handled things quickly for us. The storage unit was a disorganized mess, but he made it all go away for a reasonable fee. We will call him again for our garage that has never seen a car.

Great help when my dad needed a ton of random junk removed. A real nice guy and fast worker, before we knew it the drive way of couch, table, chairs, etc. was gone! Great price too!

Everything gone within 20 minutes, very satisfied. Quick and awesome service. Called yesterday, everything removed today !!